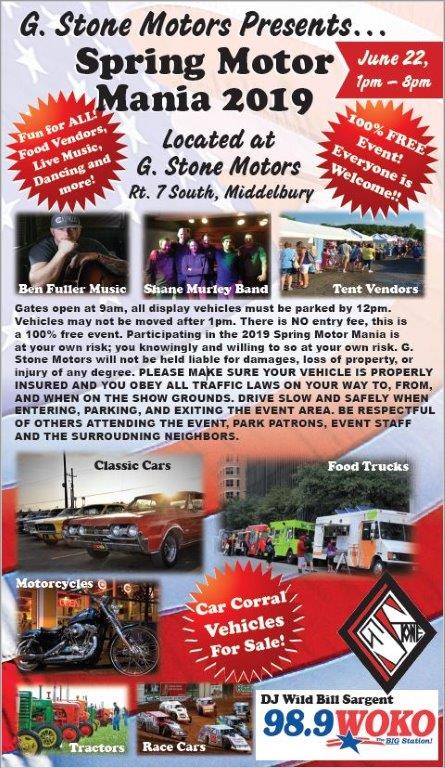 Spring Motormania Event Info:
1. This event is being held at G. Stone Motors 36 Boardman Street, Middlebury, VT 05753
2. All vehicles, vendors, and displays must be set up by 12 Noon.
3. All vendors must have appropriate permitting and supply a certificate of liability insurance.
4. This is a family friendly free event, alcohol is strictly prohibited (unless provided as a sample tasting by approved vendor).
5. Set up is from 8am-12noon, gates will be closed at noon and the show will take place from 1pm until 8pm.
6. No parking will be allowed along the roadsides, dedicated parking areas and shuttle transportation will be marked and available. 
7. All questions can be answered by calling Travis Romano or Todd Stone at 888-398-0785.
8
. Please remember to obey all traffic laws before, during, and after the event.
9. G. Stone Motors is not responsible for damage to vehicles, theft, or injury.
10.Have a fun time! Eat, enjoy the entertainment and check out the cars.