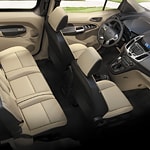 The Ford Transit Connect is a vehicle that is a great option for people who are looking for a cargo vehicle. There is plenty of space inside the vehicle. You will also have the ability to seat up to seven people. Furthermore, there are several convenience features.
This vehicle has wireless charging. You won't have to worry about using any charging cables, ports or plugs. All you have to do is set the phone down, and it will charge. Available MyKey is another feature. You can use the key in order to limit the top speed.
You will also be able to reduce the radio volume and mute the sound system. Additionally, you can set alerts that will let you know when your speed is getting ready to go over a certain limit. If you would like to try out to the Ford Transit Connect before making a purchase, then you can contact our dealership.