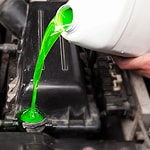 Worn belts and hoses, loose connections, and aging components that have reached the end of their lifespans are all common causes of automotive fluid leaks. At G. STONE MOTORS INC., we know just how important it is to catch and correct these leaks early on. By knowing what to look for, Middlebury, VT locals can often avoid costly repair issues and outright automotive failure.
Check the Ground
One easy way to identify leaks is by paying close attention to the ground beneath your vehicle. Take a look at your driveway and check for colorful puddles, spreading stains, and other evidence of problems. If you find anything suspicious, schedule an inspection right away.
Fluids That Are Most Likely to Leak
The most common automotive fluid leaks include engine oil, antifreeze, battery acid, brake fluid, fuel, and differential fluid. These are leaks that are less likely to occur when vehicles are regularly tuned up and on top of all other manufacturer-recommended maintenance. Even during a quick oil change service, auto technicians can check all fluid levels for signs of problems.